Antenatal Class Malaysia
Bringing a baby into the world is both a joyful thing and a big responsibility. To prepare for this new and exciting journey in your life, attending antenatal class would be a good start. If you're wondering what an antenatal class Malaysia is about, read on to find out!
What is Antenatal Class?
Antenatal classes assist you with preparing for labour, birth, breastfeeding, and caring for a newborn baby. They seek to provide expecting parents with all of the information they need to prepare for the birth of their little one.
These classes seek to offer expecting parents, including mothers and fathers, the confidence and knowledge they need to give their newborns the best possible start in life.
Although antenatal classes are not a must, they are popular as they provide hands-on experience that can enhance expectant parents' confidence. Parents-to-be frequently appreciate the opportunity to share experiences with other expecting parents, address any concerns, and acquire confidence through knowledge and practice.
Benefits of Antenatal Classes
Provide you with a clear picture of what to expect during pregnancy, labour, and birth.
Antenatal classes provide an open environment in which you can express your worries and find support during your pregnancy and childbirth. While GPs and midwives can offer excellent advice, these classes can help couples fully understand the nature and methods of pregnancy while giving equal attention to you and the baby's well-being.
Makes you feel more positive about your upcoming birth.
Antenatal classes help to establish a group of confident parents by putting anxieties aside and giving expert information and personalised care.
Gives you hands-on experience.
Antenatal classes Malaysia go beyond simply providing information. They also give you firsthand knowledge of the delivery procedure. Many hospitals offer tours of the birth rooms to familiarise expecting parents with the atmosphere in which their child will be born.
Makes you have the best support system.
It is extremely beneficial if both partners attend these classes as you can both experience what it is like to give birth to a baby. Having the spouses together might give a support system for both of you as you will understand each other a lot better.
Types of Antenatal Class Available in Malaysia
Active birth classes emphasise the use of movement and various positions to assist you in managing your labour.
Lamaze classes include breathing, relaxation, and comfort techniques which will be taught to participants to help them cope with labour.
Calmbirth makes use of this mind-body link to alleviate any worry, stress, or anxiety associated with childbirth. It aims to retrain the mother's stress response and assist her in being proactive throughout labour and birth.
Another type of antenatal class Malaysia on preparing for childbirth is hypnobirthing. It is said to help with birth-related anxiety or fear. This causes your body to relax during your pregnancy, labour, and delivery.
Pilates has been demonstrated to reduce the need for caesarean sections, delivery interventions, and episiotomies, as well as help alleviate or remove the common aches and pains of pregnancy.
When Can You Start Antenatal Classes?
Most individuals start their antenatal classes around 7 or 8 months, however it's better to register as soon as possible because they fill up quickly!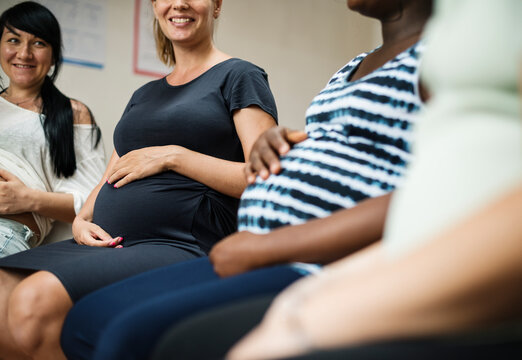 Choose a class that fits what you want to learn about caring for a baby. You can even go for more than one – there is no limit to knowledge! To make it easier for you, read on for a list of antenatal class Malaysia for you to choose from.
1. Newborn Care Class with Baby With Bee
Baby With Bee has been providing prenatal classes and postnatal services that are backed by evidence across Malaysia, Singapore and Australia. So if you're looking for antenatal class Malaysia, rest assured you'll find it here. They offer both virtual and physical classes for your convenience. Either you are new parents or new parents again (with your second, third or even fourth baby), you are welcome to join their Newborn Care Class.
This class covers 11 topics such as how to hold a baby and basic baby care, how to calm and soothe a baby and baby's behaviour, sleeping and development. Moreover, it is not just about the baby. The class also teaches the couple on how to care for the new mom and how dads can get more involved too.
Price: RM 400 nett per couple (Private Class)
RM 200 nett per couple (Group Class)
Location: Virtual and various locations in Kuala Lumpur, Selangor and Penang
Website l Instagram l Facebook
2. Babies & Breastfeeding Class with Klinik Famili Gravidities
Klinik Famili Gravidities aims to be the number one family clinic in Wangsa Maju for the overall health of a family. Led by Dr. Nurzarina Abdul Rahman (MD, MMedSc) who is a general practitioner, lactation counsellor and also parentcraft educator. Apart from going for consultations at the clinic, they also hold breastfeeding classes. While it is a natural process, some mothers may struggle with breastfeeding their baby.
Their antenatal class Malaysia, namely, Babies & Breastfeeding Class, covers topics such as how to successfully breastfeed your baby and issues surrounding it such as low milk supply injuries to nipples and weight of baby not improving, ways to handle when your baby is choking (an important lesson!) and also tips for babywearing for parents. These classes are overseen by Dr. Nurzarina herself and other qualified doctors and consultants.
Price: RM100 per pax or RM150 per couple
Location: Gravidities Academy Wangsa Maju, Kuala Lumpur
Website l Instagram l Facebook
3. Motherhood Antenatal Class by Motherhood.com.my
Motherhood.com.my is a one-stop baby store where one can get all kinds of baby supplies. Not only that, it also offers real mom reviews, guides and tips, brand reviews and free sample requests. Motherhood.com.my also offers Motherhood Antenatal Class Malaysia. It is an online course which will help prepare you for labour, birth and your parenthood journey.
The extensive course which is available online can be accessed at your leisure. You can access it anytime you need a refresher. You will get access to 10 panels of experts comprising of doctors, gynaecologists, nurses, physiotherapists, nutritional therapists, consultants and certified Pilates instructors.
There are also monthly webinars conducted by the panel of experts covering various topics which you will have access to as well. Moreover, you will get a Motherhood Parentcraft Kit delivered to your home.
Price: RM100
Location: Virtual
Website l Instagram l Facebook
4. Live Masterclass with Dollypedia
Dollypedia is an education platform just for parents and parents-to-be. They provide virtual educational antenatal class Malaysia, mainly classes on baby and early parenting. Most parents choose Dollypedia for its convenience as you watch live on demand videos at a time that is most convenient for you. The materials are provided by professional coaches with vast experiences.
Firstly, you should choose the stage you are at whether you are trying to get pregnant, during pregnancy, you just had a baby or new to parenting. Once you have chosen the right stage for you, choose and save the videos according to what interests you and then watch them at your own time.
However, for their live masterclasses, you should set a time to attend the live events as the videos are only available upon request. At the moment, they will be having a 2-days Live Pregnancy Masterclass and a Live Breastfeeding Masterclass. Keep a lookout for their future Masterclass on their website in the future.
Price: RM207 – RM419
Location: Virtual
Website l Instagram l Facebook l Youtube
5. Antenatal Classes at Your Nearest Hospital
You can also check out antenatal classes organised by hospitals near you. Whether you are choosing to have your baby at a general hospital or a private hospital, most hospitals do conduct antenatal class Malaysia for the expectant parents. Be sure to enquire about your chosen hospital or check out their website for information on their antenatal class including dates, fees, venue and what topics will be covered in the class.
For example, Columbia Asia Hospital is holding their Virtual Antenatal Class and registration is free! Hospital Lam Wah Ee has their antenatal class programme which will be conducted twice monthly for 2 consecutive Saturdays for RM100 per couple.
Price: Free/depending on your chosen hospital
Location: At your chosen hospital